Flags Made With Your Custom Designs
……………………………………………………………………………………………………………………………..

Quality Custom Made Flags
We understands the importance of personalized CUSTOM FLAGS. Shape, size, color, tailored design and fixtures all matters when it comes to manufacture. We manufacture custom flags to individual requirements to ensure our customers are happy with personalized designs.
We believe details are imperative to high quality personalized flags, which is why we carefully take into consideration size, printing techniques, color, fixtures, materials and artwork preparation. Before you obtain items from US, you should also take these things into consideration.
We manufacture a wide variety of custom flags for almost any use. Whether you're after custom flags for cars, tables, events, or daily use, we can offer a total solution.
Flags Set Specs:

No minimum (Bulk Discounts Available)

Full custom size color/design

Dye sublimation

Completely washable

Inks UV protected

Options on materials

Double stitched on four edges

Our flags are also waterproof, so
you can wash them as needed.          

Our digital dye printing processes results in excellent
color matching, allowing us to produce deep, rich
color contrast. For longer runs, screen printing is
typically the best choice.
 The detail description :
  110D Polyester
  200D Polyester

  Single/Double Sided

  Finishing

  High Quality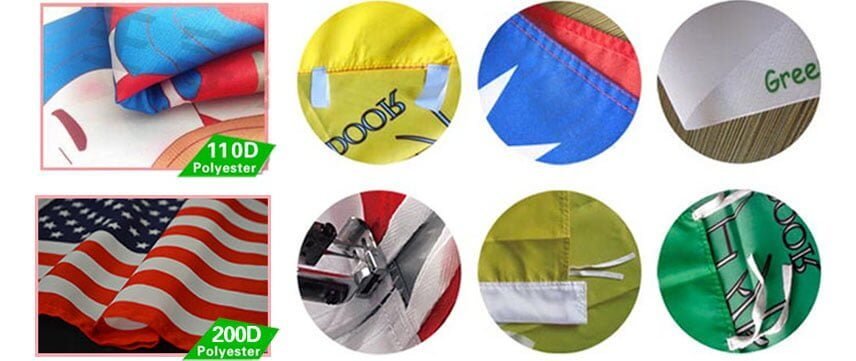 Friendly Sales Team Works Directly With You To Get You Exactly What Your looking For.
No set up or screen charges saves you money.
No Minimums order quantity. We welcome any quantity from 1 to 1000s
Big flags 6′x10,' 8′x12′ and even larger can now be printed at huge savings.
An unlimited number of colors at no extra charge. Be as creative as you want without the cost!
Complete penetration of the dye through the flag producing extremely durable & radiant colors.
A soft supple finish. Never board-like or stiff.
Rush orders are available at additional cost.
Eco-Friendly. We care for our environment.
Every Flag Printed is Single Reverse (Single Sided) with a Reversed Image on the Back
Our process meets or exceeds every State and Federal Regulation
Flags Finished with Thick Canvas Heading & Heavy Brass Grommets
Every Single Part of Your Flag Will Proudly Be Made in the China.
3′x 5′(Standard) This is the most common for outside use.
Other sizes are:
16″x 24″
2′x 3′
4′x 6′
5′x 8′
6′x 10′
We can make any size you require.
Our estimated delivery dates are based on several factors, including the destination address, the shipping options you've chosen, and how quickly we can assemble and prepare your items for shipment. You can calculate delivery estimates by taking the processing time for your order and adding the transit time based on the shipping method you've chosen.
Quick turnaround.Order Processing Time(business days),The average order is delivered in:
(order quantity:1-30s) 1-3 days
(order quantity:30-100s) 3-5 days
(order quantity:100-300s) 5-8 days
(order quantity:300-500s) 8-12 days
(order quantity:500-1000s) 12-15 days
(order quantity:1000s-) 15- days
Rush orders are available at additional cost.
Shipping Time (business days):
Quantity(1-30s)–DHL/UPS/FEDEX/DHL/TNT(3-7 days) other cheap(15-25 days)
Quantity(30-100s)–DHL/UPS/FEDEX/DHL/TNT(3-7 days) other cheap(15-25 days)
Quantity(100-300s)–DHL/UPS/FEDEX/DHL/TNT(5-9 days) other cheap(15-25 days)
Quantity(300-500s)–DHL/UPS/FEDEX/DHL/TNT(9-12 days) other cheap(15-25 days)
Quantity(500-1000s)–DHL/UPS/FEDEX/DHL/TNT(12-20 days) other cheap(15-25 days)
Quantity(1000s~)–DHL/UPS/FEDEX/DHL/TNT(20-25 days) other cheap(15-25 days)
Our Buyer Protection ONLY protects Payment Methods as listed below:paypal, credit card or others
Through paypal, contact us for our account email address.A sealed and signed Commercial Invoice can be supplied if you need it.
Tracking Your Order:
Once you place your order, you will receive an email that links you to a page where you can track the status of your order. You will be given a tracking number for the shipping carrier as well as a unique package identification number. By looking at your activity report, you can see when you package is expected to arrive.
Every order is custom designed and created for each client. Once an order goes to print, we are unable to offer returns or exchanges unless the item is defective. If you receive a defective item, please contact us at themartshop@gmail.com
with details about the product and the defect. You must also email us clear photos of them to themartshop@gmail.com to prove there is a problem.
Upon receipt of the returned product, we will fully examine it and notify you via e-mail, within a reasonable period of time, whether you are entitled to a refund or a replacement as a result of the defect. If you are entitled to a replacement or refund, we will replace the product or refund the purchase price.
Returns for no reason are not accepted.
Printing is done by machine where the ink is printed on the material in a dot matrix manner. The best way to explain digital printing is to imagine a very large printer like the one you use at home.
As the material is fed through the machine, the ink heads deposit a small amount of ink in just the right place to produce your image. Digital printing is similar to 4 color-process but instead of using screens the printer deposits the ink.
There is a type of digital printing. In the direct process the inks are deposited directly onto the fabric and then the inks are heated. During the heating process the inks are sublimated into the fabric. The bleed through on all types of digital prints varies.
Our preference is for CMYK vector artwork with all the text converted to outlines and a 5cm bleed, supplied as a PDF, AI, CDR, EPS or JPG. We use Adobe Illustrator CS6. If you're using Photoshop or a program generating bitmaps, please supply your artwork at least 25% of the size at 300dpi.
The quality of the design on your finished custom flag depends on the quality of the artwork used to print it. If you take a tiny low-quality image off the internet and tell us to print it onto a flag, we will,but the flag banner printing results will be poor. Ultimately the responsibility is yours, but we are here to help you.
Here's how:
1. If you have an image and you're not sure how good it is, email it to us at themartshop@gmail.com and ask. We'll look at it and let you know what we think.
2. After receiving your paid order and artwork we'll prepare a full size PDF proof and email it to you to check. Examine this proof on 100% magnification. This will show how elements of the design will look when you have the full size flag in your hand. Remember: just because your design looks slightly pixelated close-up doesn't mean it won't be fine for a flag flying 6m up in the air. You must check this proof. We won't start work on your flag until you confirm that you're happy.
3. If you don't have a picture of the design you want, but you can describe it (e.g. "a gold shell outlined in black with the text 'Sue's Seashell Sales' in blue all on a white background") we'll draw it for you free of charge. We will only create free artwork for you once you have placed and paid for the flag to which it relates.
4. We can't improve photographs. If you send us a poor quality photograph to print it will stay poor quality. If you send us a very small poor quality photograph, by the time we've enlarged it to the size of your flag it will look worse not better. We can and do print good quality photographs very successfully. A photograph taken directly off your digital camera's memory card is usually fine, but the same photograph once it has been reduced for use on a website usually won't be fine.
Can I see a proof of what my flag will look like?
Once you place your order, our design team will email you a digital PDF proof of how your artwork will appear on the flag. We're happy to work with you to make sure your artwork flag looks great

What resolution should my logo be when uploading?
For optimal results, upload graphics with at least 300 dpi (dots per inch) or provide vector files (.ai / .pdf / .eps).
How do I make a change to my order?
If you've already placed your order and want to make a change, send us an email to themartshop@gmail.com
Why are your prices so low?
SIMPLE, we are manufactures at our own premises with 4000 sq feet to be precise. We print all of our products in house and by cutting out the middleman these savings our are passed on to you.
Do your display stands come with a warranty?
Yes, all of our display stands are backed by a minimum of 12 Months warranty. Some display stands also have an extended 10-year or lifetime warranty where indicated.
What is the quality of your print like?
As a professional display manufacturer, all of our products are checked carefully before they are dispatched. We only use the latest eco-solvent printers and the very best finishing equipment.
Can you help me with artwork?
Of course we can help; we have our own design department with some very talented designers. We use the latest Apple + PC software to make sure you benefit from all current design trends etc. We can also accept any files that you send us.
Custom-Printed Flag Samples
Great Value
We offer competitive prices on our custom flags product range.
Safe Payment
Pay with the world\'s most popular and secure payment methods.
World Delivery
Since 1995,we have shipped to over 56 countries & regions.
Help Center
We offer round-the-clock assistance for a smooth shopping experience.